If you prefer to buy raw material and fabricate your project on your own, Faulkner Plastics is your one stop shop. We carry everything needed to fabricate even the most intricate of plastic designs.
The entire line of WELD-ON® adhesives for joining acrylic, polycarbonate, and PVC sheet, rods, and tubes. We also carry applicators for plastic gluing.
CRAFTICS 20/20 PLASTI-CLEANER

Used by professional fabricators and plastic distributors worldwide to clean and glaze in one operation. Will not scratch or haze surfaces. Cleans quickly without streaking or residue. Anti-static properties resist dust and fingerprints.

FINE SCRATCH REMOVER; Removes fine scratches, haziness, and abrasions from most plastic surfaces. Restores faded and discolored plastics.

Removes heavy scratches and abrasions from most acrylic surfaces. Contains abrasives. Not for use on eyeglasses, polycarbonate, or coated plastics. Final finishing requires NOVUS No.2.

BUFFING KIT (sold with adapter)

Remove fine scratches and polish edges from plastic surfaces with this conveniently packaged kit. Each kit contains a 4" -diameter sewn cloth buffing wheel and a 2-oz. stick of buffing compound. Use with Craftics Arbor Adapter. Package for retail with complete instructions on back. Not sold separately

ARBOR ADAPTER (sold with buffing kit)

This 1/4" mandrel with 1/2" arbor fits any hand-held drill. Use with Craftics Buffing Kit. Packaged for retail. Not sold separately
ACRYLIC FAST-SET; Non-flammable, water-thin, very fast setting solvent cement for bonding Acrylics. Also bonds styrene, butyrat, PETG, and polycarbonates to themselves. 4 fl oz (1/4 PINT) or 16 fl oz (1 PINT)

ACRYLIC MEDIUM-SET; Non-flammable, water-thin, moderately fast setting solvent cement for bonding Acrylics. Also bonds styrene, butyrat, PETG, and polycarbonates to themselves. 4 fl oz (1/4 PINT)

THICKENED CEMENT; Fast-setting, medium-bodied, high-strength Acrylic cement. Also bonds rigid PVC, ABS, styrene, butyrate, and polycarbonate to themselves and each other, as well as other plastics and porous surfaces. Fills small gaps, dries clear. 1.5 fl oz or 5 fl oz.

1-1/4 Ounce Clear LDPE Oval Plastic Bottle with 25 gauge x 1" long Stainless Steel precision Blue needle (.020" OD x .010" ID). Use the HYPO-200 for Solvent and Fine Oils. Perfect for the craftsman, fisherman, and piano tuners.
This flexible silicon strip heater is suitable for occasional use. It's quick and easy to use-just unroll, plug in, and heat and bend material up to 1/4" thick. Its flexibility makes it useful for odd shapes. Heat reaches 280° F.
These special drill bits for plastic produce clean, smooth, chip-free holes in Acrylic and other plastics. Excellent for hand-held drills. Shank diameter is the same as the drill bit, except for the 7/16" and 1/2", which have a 3/8" shank. All bits have a 90° point, O° rake. Bit sizes come in 1/8", 5/32", 3/16", 1/4", 5/16", 3/8", 7/16", 1/2".
SWIVEL BLADE PLASTICUTTER

The specially designed blade in this Plasticutter scores and cuts Acrylic and other plastics up to 1/4" thick. The position and angle of the hardened steel cutting edge is the key to scoring not only Acrylic, but Plexiglas®, Lucite®, styrene, PETG, and other plastics. Blade folds into handle for safe storage, but snaps into place when opened. This tool is excellent for field work, such as installing lighting panels.

Craftics' unique four-function tool prepares edges to for buffing or flame polishing. This easy-grip tool removes saw cuts and sharp corners, bevels thick material (up to 3/8"), bevels thin material (up to 1/4"). Package with retail instructions on the back.

Sold in a two-pack, these blades leave a smooth, ready-to-polish edge on Acrylic. Will also cut styrene, polycarbonate, and other plastics smoothly. Each pack contains one blade for cutting material up to 1/8" thick and one blade for material thicker than 1/8".
OTHER FABRICATION SUPPLIES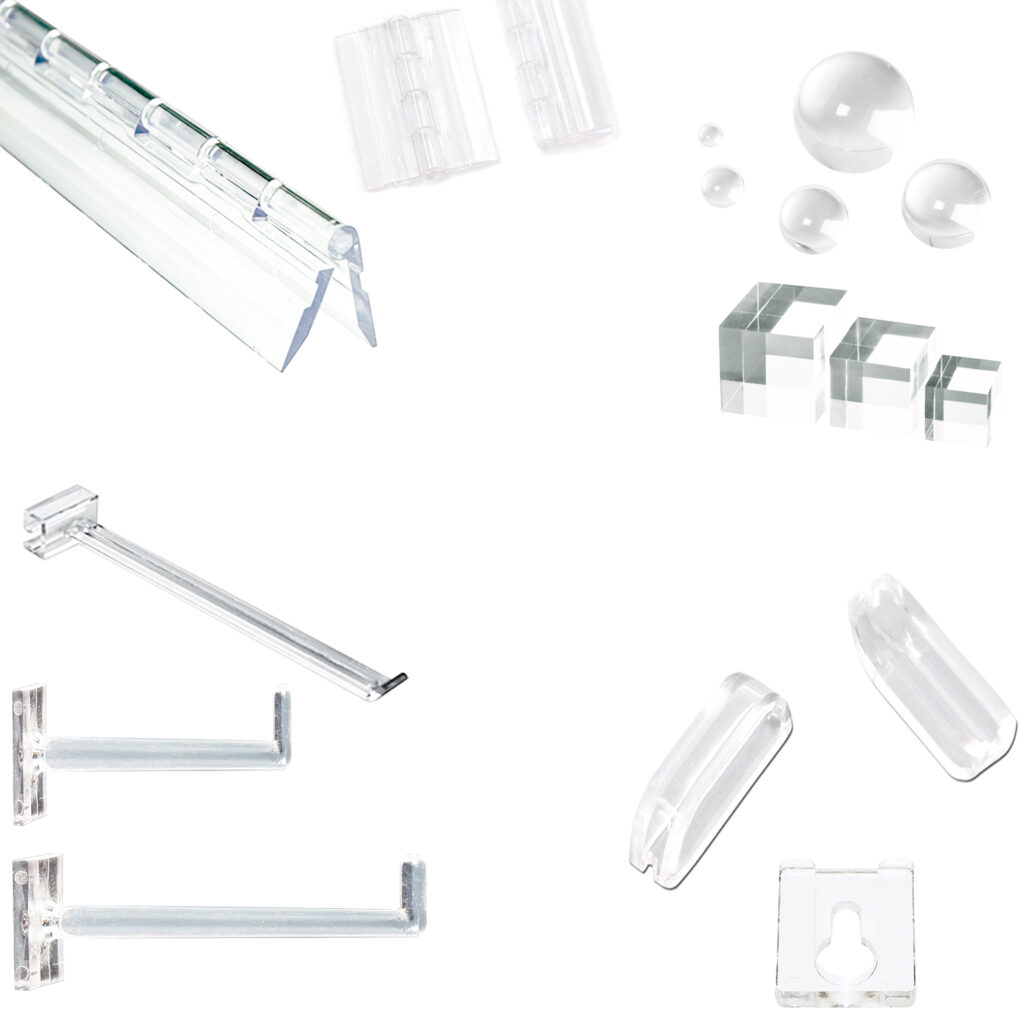 We also have various acrylic and plastic materials in stock.
CLEAR ACRYLIC SPHERES
CLEAR ACRYLIC HALF SPHERES
TUMBLED ACLEAR ACRYLIC CUBES
ACRYLIC PULLS
ACRYLIC KNOBS
UNIVERSAL KEYHOLE
DOOR CATCH
RIBBED CLIP HOOK
ROUND HOOK
PIN-STYLE HASP
ACRYLIC HINGES
PIANO HINGES
RODS
TUBES
+MORE