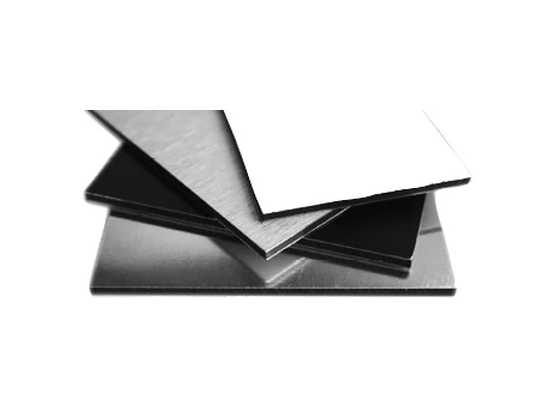 Aluminum composite material (ACM) is a three-layer panel material made of two thin layers of pre-finished aluminum bonded on either side of a polyethylene (PE) core. ACM panels are exceptional for indoor and outdoor applications that require good dimensional stability, light weight, strength, and durability.
Key Features and Benefits of Aluminum Composite Material (ACM)
The primary advantage of ACM is its versatility. ACM panels can be easily cut, routed, fabricated, mounted, and installed using everyday tools. In addition to its eye-catching designs and durability, ACM remains flat over time, which reduces the oil can and rippling appearance.
ACM panels are also approximately half the weight of traditional aluminum and is widely considered as a more cost-effective solution than similarly gaged aluminum sheet. Furthermore, ACM possesses excellent UV resistance, scratch resistance, weatherability, anti-corrosion skin, and can be easily cleaned allowing the material to maintain its sleek and brilliant look.
Regarding signage and display applications, the benefits of using ACM are extensive. For example, ACM readily accepts traditional inks and paints, is digitally printable, and readily accepts PSA print media. Additionally, ACM meets UL compliance in accordance with UL879 as a component for sign accessories and may be used to construct type II electrical enclosures.
Common Applications of Aluminum Composite Material (ACM)
The aesthetic qualities of ACM paired with its ability to be easily fabricated without sacrificing durability makes ACM an attractive material to use in various end user products. Some of these include signage like channel letters, POP displays, specialty vehicles, and building and construction applications like architectural cladding, insulation, and wall linings.