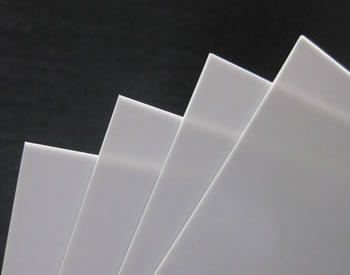 HIPS (High Impact Polystyrene), also known as PS (Polystyrene), is an amorphous thermoplastic material, used in lower heat applications. It is categorized as a standard material, and offers ease of processing, high impact strength, and stiffness.
HIPS is a versatile cost-effective material engineered from tough polystyrene resins. It is often specified for low strength structural applications when impact resistance, machinability, and low cost are required. It has excellent dimensional stability and is easy to fabricate – it can be guillotine cut, die-cut, punched, and also painted and glued, properties that make it a popular option for machining pre-production prototypes. Natural (translucent white) HIPS is FDA compliant for use in food processing applications.
High Impact Polystyrene (HIPS) can be assembled with mechanical fasteners, solvents, or adhesives. Printable grades of polystyrene can be decorated using a variety of printing methods including offset lithography, screen-printing, and digital printing. It is also used as a substrate to mount graphics such as plotter vinyls/films.
HIPS is ideal for producing signs and displays; it is one of the lower cost materials available and contains many of the properties desired by lithographic, screen and digital printers.
Polymershapes proudly offers styrene from industry-leading manufacturers, such as Primex, producers of Impax, DIGI-HIPS™, TearTuf, and more!
If you need your material fabricated, let Faulkner Plastics help! We offer a wide range of value-added services that can help you stand out versus your competition, with a variety of conversion and fabrication services. Our experienced teams will deliver best-in-class customer service and convenience that will exceed your expectations.